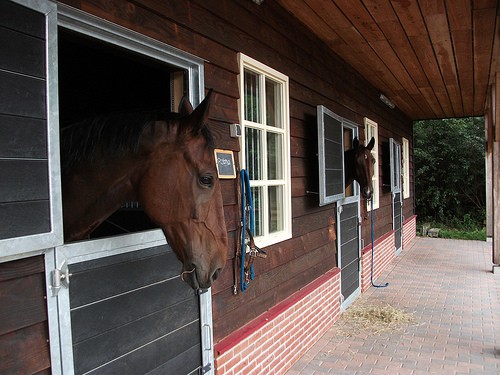 Stables
Max. 1 persons
De Reeënwissel campsite rents out 5 spacious stables each measuring 12 m2. Each stable has its own spacious paddock. When renting two or more stables the paddocks can be joined together. The hire of a stable includes hay, biscuits, bedding and a lockable saddle cupboard.

Take your own horse to De Reeënwissel and enjoy endless rides together in the Drents-Friesewold. PLEASE NOTE! If you want to book a stable online, then fill in 1 person.

Characteristics:

Max. 1 persons
Parkeerruimte voor trailer
Ruime afsluitbare zadelkasten
Goed omheinde buitenbak 20 x 40
Hindernismateriaal
175 km aan bewegwijzerde ruiter- en menroutes

Availability & booking

First choose your day of arrival, afterwards you can chose the day of departure.

Stable 12 m with feed box and automatic drinking tray. At each stable is a spacious own paddock.