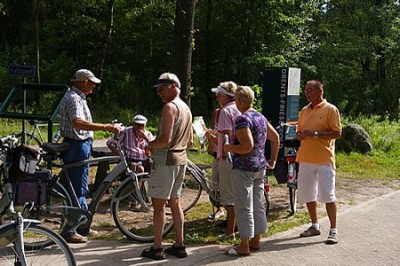 Walking:
Camping de Reeënwissel is located directly at the Drents Friese Wold National Park. From this family campsite you can walk or cycle directly into the largest forest area of ​​the Netherlands.
In the Drents-Friese Wold, over 130 kilometers of hiking trails are available, spread over more than 30 marked hiking trails. These walks are also found on the National Park's hiking map. This card is for sale at the visitor centers. Online routes are also available.
Bicycles:
The Drents-Friese Wold knows a fine-tuned network of cycle paths. Cycle paths can be distinguished in 3 categories; Paved trails, half-hard paths and sandpaths for ATBs. Most paved trails are also suitable for use with a scooter.
Also in the Drents-Friese Wold you can cycle through the national system of cycling routes.
Other hiking and cycling information:
At the reception, the Drenthe-West card is available, with all cycle paths and nodes.
The National Park map with hiking trails, bike paths, horse riding trails and mountain bike routes is also sold here.
Of course we also rent bicycles.
A bicycle costs € 9, - per day and € 37, - for one week
A mountain bike € 20, - per day and € 70, - for a week.
Electric bikes can also be arranged, only these we do not have on stock.
Feel free to contact us for more information or rates.