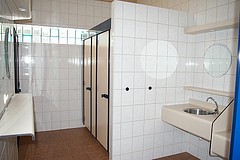 There are two modern and heated sanitary facilities on the campsite.
The clean and modern bathroom meets all the wishes of this time. The underfloor heating also ensures a pleasant temperature during fresh evenings. The separate wash cubicles provide privacy and there is a sanitary area for the disabled. There is also a very large shower cubicle with two shower heads. The toilets are provided with toilet paper. The laundry fountains contain soap and a hand dryer. Both buildings have a baby room.
The sanitary area located at the front of the center building also has a washing machine, dryer and centrifuge.
The washer and dryer both work on the sepkey system. The centrifuge works on coins which are available for sale at the reception.